Past
#26:

Hannan Jones, Dina Mimi, Onyeka Igwe, Jacob Dwyer, Gabriel Abrantes



Thursday 6th April 2023 7.30pm
Location: P/////AKT, Amsterdam



Programme:
Working Knowledge of Ritual, Hannan Jones, 2023 (4 mins)
The eyes that never see, Dina Mimi, 2021, (12 mins)
We Need New Names, Onyeka Igwe, 2015 (14 mins)
Donovan Garcia, Jacob Dwyer, 2017 (7 mins)
A Brief History of Princess X, Gabriel Abrantes, 2016 (7 mins)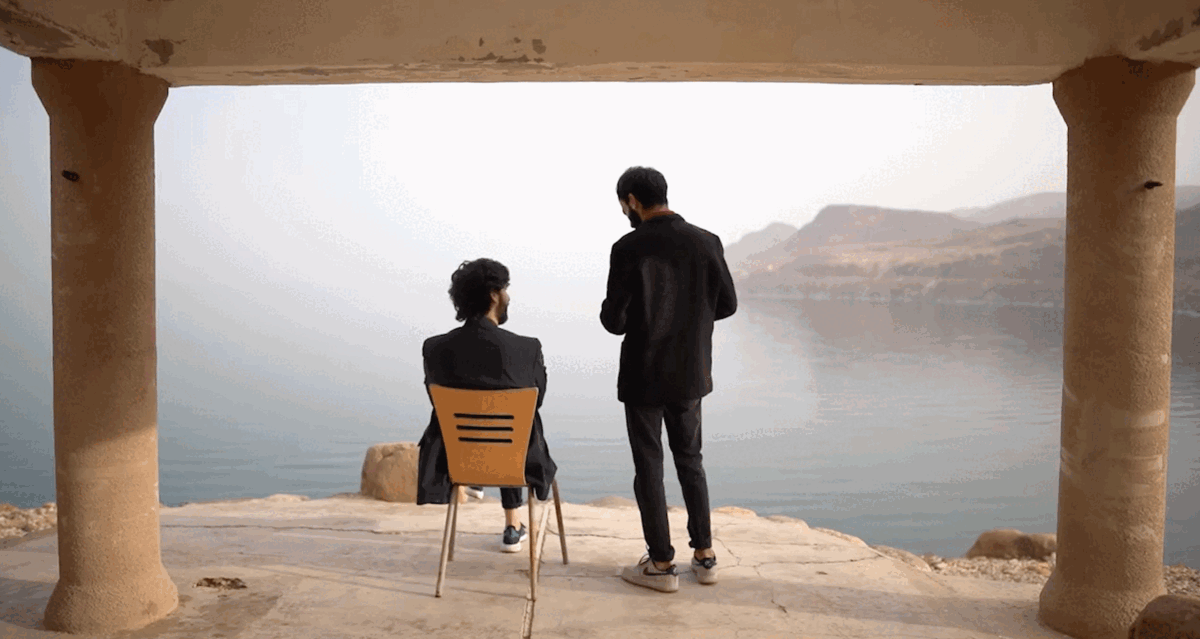 Mascara film club presents a programme that looks at portraits of people that cannot be filmed, whether this be through impossibility or concealment. Fact, fiction and construction play out across five films that propose alternative depictions or awkward documents.


---
#25:
Uriel Orlow,

Lenka Vráblíková and Elspeth Mitchell, Rehana Zaman

Wednesday 9 November 2022, 7.30pm
Location: MayDay Rooms

︎︎︎TICKETS



Programme:

The Crown Against Mafavuke

,

Uriel Orlow

, 2016 (18 mins)

Out of Office: Mycorrhizal encounters and the art of feminist un/learning

,

Lenka Vráblíková and Elspeth Mitchell

, 2021 (21 minutes)

Alternative Economies, Rehana Zaman

, 2021 (28 minutes)


Mascara Film Club presents a group screening of three films by Uriel Orlow, Lenka Vráblíková and Elspeth Mitchell, and Rehana Zaman. Exploring entanglements between knowledge, nature and truth production, these films focus on different and often devalued modes of understanding presented through mediations between plants, fungi and people. Working at the junctures between epistemes, here plants and mushrooms offer opportunities for learning and un/learning across ideologies and cultures.

Tickets can be booked via Eventbrite for free. However, we kindly ask attendees to donate £5 if they can, which goes directly towards paying artist's screening fees. Donations can be made on the door. Mascara Film Club is a volunteer-run artist collective.



---
#25:


29 October – 23 November 2022
Online




Mascara Film Club presents an online screening of Avril Corroon's film Spoiled Spores (2019), free to watch on our website.

Responding to neglected housing conditions in rental property in Ireland and London, Spoiled Spores is a film showcasing cheeses made with a culture of household mould (black mould) sampled from rental accommodation in Dublin and London. Participants were found through Avril's extended network of peers and call outs online - each cheese is named after the individual participant. Adopting aesthetics of commercial food photography, the cheese in Spoiled Spores is stylised with menus outlining its provenance, ingredients, rental fees and mould type.



---
#24:
Project Artworks


7 – 27 October 2022
Online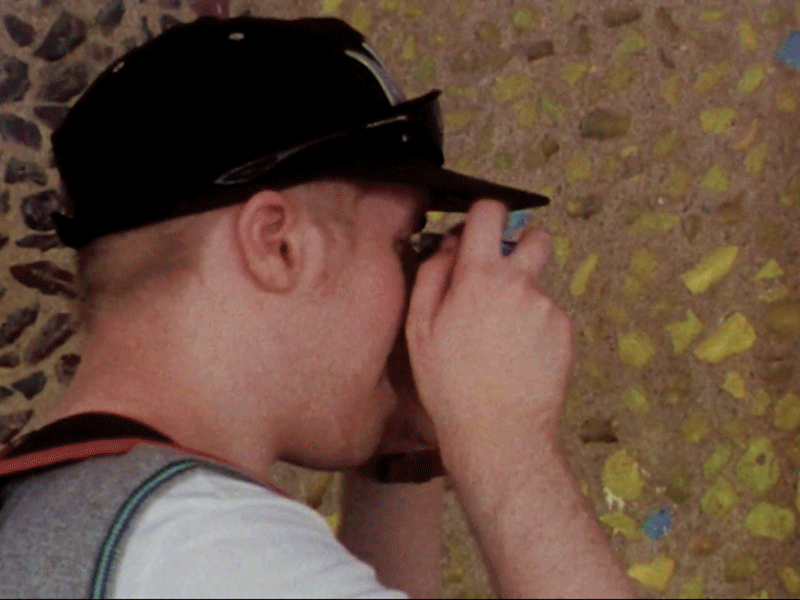 Mascara Film Club presents an online screening of two films by Project Artworks, No Church in the Wild (2015) and Meet me at the Station (2016).

No Church in the Wild is edited from recordings made while in the company of four young men with autism as they travel through the Sussex countryside. The protagonists finally arrive at Ivy Church in Romney, a building which dates back to the 14th century and is one of the last operational churches in England without electricity. The film explores the concepts of congregation and sanctuary through the sensitive and diverse investigations of the open countryside and the church by the four young men. While it reveals the often unconventional and intimate interactions between the participants as they negotiate their journey, the film questions more widely what it means to be a group and to feel safe.

In 2016 Project Art Works conducted several innovative and investigative projects that focused on how people with complex support needs experience built space and other environments. Each survey resulted in beautifully constructed sound and film documents of the experience. This practice aligns with the psychogeographic practice of investigation, the dérive or drift, and refers to unplanned journeys through urban landscapes and the way in which the surrounding architecture and geography subconsciously direct the travellers. Meet me at the Station was one of these surveys. This was a Super 8 film transferred to digital film with sound.

About Project Art Works

Project Art Works collaborates with people with complex support needs, families and circles of support. Our practice intersects art and care, responding to neurodivergence, its gifts and impacts. Challenging paradigms of inclusion, it spans direct practical and holistic support, film, events, projects and exhibitions.

Our studios provide the conditions for a broad range of autonomous and collaborative practices with neurodivergent artists, who take part on their own terms. Alongside the studios, the Support Collective brings together people who care for people with complex support needs where we share our experience and protect our rights through training, resources and advocacy.

Human connection and what it reveals about identity and how we view each other are explored within our work. Our practice continues to respond to the functional and ethical structures of diligence and care, respecting self-determination and privacy whilst working towards greater visibility and understanding of neurodiversity in culture.

Project Art Works is an Arts Council England National Portfolio Organisation. Alongside neurodiverse artists and makers, the collective includes paid and unpaid caregivers who help each other to navigate through the complexities of health and social care systems.



---
#24:

Harilay Rabenjamina, George McGoldrick, George Kuchar, Stephen Sutcliffe, Sam Marshall Lockyer




Sunday 23rd October 2022 8pm
Location: P/////AKT, Amsterdam



Programme:
Le Nez De Ma Mère Sous Titré/My Mothers' Nose, Harilay Rabenjamina, 2021 (12 mins)
Paul the Octopus, George McGoldrick, 2018, (1 min)
Creeping Crimson, George Kuchar, 1987 (16 mins)
City of Dreadful Something, Stephen Sutcliffe, 2019 (4 mins)
Scene 4, Take 9, Street Named Psycho politics, Ep1, Se1, Sam Marshall Lockyer, 2022 (17 mins)







Mascara Film Club is very excited for our first screening in Amsterdam, hosted by P/////AKT. Mascara Film Club #24 presents a group screening of films where family, friends, hometowns and pets become material to be both worked from as well as through. Anchored in autobiography, these videos present complicated political contexts through the lens of intimacy, reminiscence and family tensions. Including a bread delivery route, a dressed-up dog, a reality TV-star and a hospital visit on halloween.


---
#23:
belit sağ


8 September – 6 October 2022
Online





Mascara Film Club is pleased to present an online screening of Cut Out (2018) by belit sağ.

The video brings together police file photos of the Nationalist Socialist Underground's victims in Germany. Between 2000-2007 this far-right terrorist organisation killed 10 people, 9 of them with a migrant background, mostly Turkish and Kurdish. German government persistently ignored the racist nature of crimes and treated them as isolated assaults. sağ combines portraits of the victims with a voiceover speculating on material details and conditions of the photographs taken.

belit sağ is a videomaker and visual artist living in Amsterdam. She studied mathematics in Ankara and audiovisual arts in Amsterdam. Her video background is rooted in video-activist groups in Ankara and Istanbul, where she co-initiated projects such as karahaber.org (2000-2007) and bak.ma (a growing online audiovisual archive of social movements in Turkey). Her recent video work focuses on 'the violence of representation' and 'representation of violence'. She attended residencies at the Rijksakademie van Beeldende Kunsten, Amsterdam in 2014-2015, and the International Studio and Curatorial Program, New York, in 2016. She has presented her work at museums, galleries, and film festivals worldwide, including MOCA, Taipei; Tütün Deposu, Istanbul; Tabakalera Film Seminar, San Sebastian; Toronto/Rotterdam/San Francisco/New York International Film Fest/International Documentary Film Fest. Amsterdam (IDFA); EYE Filmmuseum, Amsterdam; Documenta14, Kassel; Marabouparken, Stockholm.


---
#21:
Chris E. Vargas & Eric. A Stanley
Thursday 01 September 2022
Location: Mascara Bar
Programme:
Criminal Queers
,
Chris E. Vargas & Eric A. Stanley
, 2015 (63 mins)
︎︎︎ Tickets: sliding scale: £3–£10
Mascara Film Club is pleased to present a screening of
Criminal Queers
(2015) by
Chris E. Vargas & Eric A. Stanley
.
Criminal Queers visualizes a radical trans/queer struggle against the prison industrial complex and toward a world without walls. Remembering that prison breaks are both a theoretical and material practice of freedom, this film imagines what spaces might be opened up if crowbars, wigs, and metal files become tools for transformation. Follow Yoshi, Joy, Susan and Lucy as they fiercely read everything from the Human Rights Campaign and hate crimes legislation to the non-profitization of social movements. Criminal Queers grows our collective liberation by working to abolish the multiple ways our hearts, genders, and desires are confined.
---